Transformative Coach Training Program for Energy Therapy Practitioners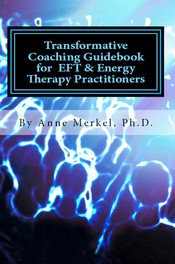 This Coach Training Program is based on my book Transformative Coaching Guidebook for EFT & Energy Therapy Practitioners:  Creating a Practice Curriculum to Support Your Clients to Thrive!  The book alone provides a wealth of information in its 280 pages about coaching and creating a firm foundation for your practice of utilizing Energy Therapy. You may buy it at Amazon by going here.
And, if you'd like more hands-on support as you develop your coaching curriculum within your practice, I've created a coach training audio program that provides over ten hours of additional coaching information and application as I guide two of my own Certified Energy Therapy Practitioners through the process. And, in this package is included a personalized one-on-one phone coaching session where I can ask your specific questions and guide you in how to best apply the coaching concepts in your practice.
Transformative Coaching Self-Study Program:  $350.  

This self-study package includes 10+ hours of audio mp3's plus one private phone session with me.
When you adopt the information included in my book and this Self-Study Coach Training program into your on-going practice you will have the structure to start new clients, maintain them, and keep them enrolled as you take them deeper and deeper into clearing their life blockages. Your practice will be more valuable to you and those you serve!